About the RAP
As a national education services provider, ESA recognises our responsibility to work for national progress in reconciliation. We are proud to join more than 1,000 organisations across Australia in developing a RAP in partnership with Reconciliation Australia.
Reconciliation involves building stronger relationships between Aboriginal and Torres Strait Islander peoples and non-Indigenous peoples, to benefit all Australians. Our Innovate RAP is an acknowledgement of our commitment to be active in this space.
ESA is committed to working towards reconciliation by building relationships both internally and externally, and raising awareness with our stakeholders to ensure there is a shared understanding and ownership of our RAP within the company. We are committed to fostering respect, finding opportunities for reconciliation, and embedding reconciliation into our governance. We also continue to share and celebrate the positive groundswell of actions and attitudes that foster mutual understanding, respect and collaboration throughout Australia.

RAP artwork and design
Our Innovate RAP's cover artwork is titled 'A Vision of Change'. It represents ESA's commitment to being seen, being brave and taking action. Of becoming a visionary and taking charge. Of learning, growing and working together to create a better future. This central theme is carried through from the cover image to design elements that echo it throughout the RAP.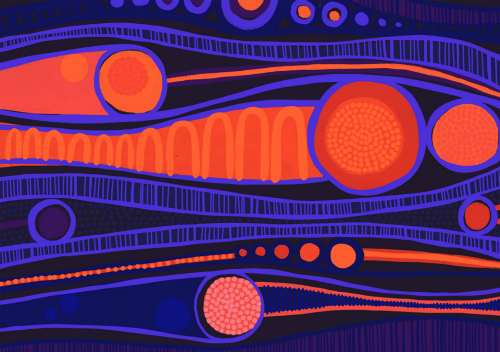 Cover artist Keisha Leon is an Aboriginal graphic designer and digital artist. She is a proud Waanyi-Kalkadoon (Mount Isa, Queensland) and Chinese woman. Keisha has created a visual story that is driven by culture and the modern world, connecting people, and helping create the narrative for the future.
RAP Working Group
The ESA RAP Working Group includes:
Cameron Power, CFO & General Manager, Corporate Services
Vanessa Mills, People and Culture Business Partner
Nick Weideman, Deputy CEO
Cathy Danaher, Stakeholder and Partnerships Coordinator, myfuture
Mary Munro, General Manager, People and Culture
Jill Wilson, Content/Resource Manager
Amanda Stephens, Product Director, Career Services
Tugce Akyuz, Project Coordinator, Digital Teaching and Learning
Leanne Robertson, Program Director, Digital Teaching and Learning
Colin McNeil, Program Manager, Product, Data and Insights
Narragunnawali
Narragunnawali

Narragunnawali supports schools and early learning services in Australia to develop environments that foster a high level of knowledge and pride in Aboriginal and Torres Strait Islander histories, cultures and contributions.
Endeavour 250
Early Childhood Resource Hub Professional Learning
Online learning for early years educators that supports understandings of Aboriginal and Torres Strait Islander cultures and people.
Student Wellbeing Hub
Supporting Aboriginal and Torres Strait Islander communities and their teachers.