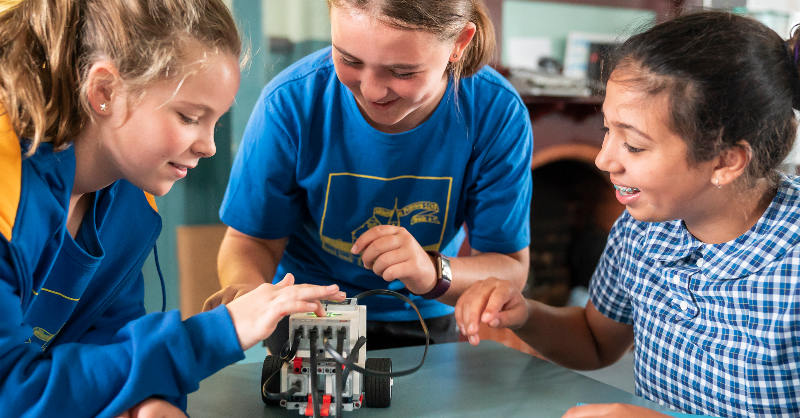 Education Services Australia (ESA) is pleased to celebrate the second anniversary of The Girls in STEM Toolkit (The GiST).

Developed by ESA on behalf of the Department of Industry, Science, Energy and Resources, The GiST aims to inspire and engage girls in STEM activities, subjects and careers to create a more gender-diverse workforce. It launched on 12 September 2019.

'This is an exciting milestone for The GiST,' says ESA CEO Andrew Smith. 'The GiST team has made great strides in ensuring all students are encouraged to participate and develop an interest in STEM subjects and careers, regardless of gender.'

'From the development of the Seven principles for gender-inclusive STEM learning environments to the publication of posters and Q&As featuring inspiring women in STEM, The GiST has produced a remarkable range of resources to support students, teachers and families in playing their part to diversify STEM fields,' Smith added.

Dr Rebecca Vivian, Senior Research Fellow at the University of Adelaide and Project Lead for the Computer Science Education Research (CSER) Group, is enthusiastic about the role The GiST is playing in schools.

'The GiST is an excellent source of support and fresh ideas for anyone teaching STEM or who has an interest in engaging more students in STEM. It has practical and inspiring resources that are backed by research,' she said.
Creating more gender-inclusive classrooms
In 2020, The GiST published the Classroom strategies for inclusive STEM learning environments in collaboration with Dr Rebecca Vivian, who said the strategies are key for lifting participation and inclusion in STEM.

'I was fortunate to work with ESA to develop a guide that is informed by research and full of practical ideas to help educators in all STEM settings put the principles into practice,' Dr Vivian noted. 'There has been huge interest in this work across Australia.'

The GiST's principles and strategies have been vital in giving schools an evidence-based approach to encouraging and supporting girls in STEM.

'It's inspiring to hear from schools who have successfully increased girls' participation in STEM subjects as a direct result of The GiST, including one school who has since increased its VCE science classes from 10 to 18,' Smith commented.

Smith also recounted how another teacher who had implemented the GiST's principles shared a story of a group of female students that approached them while they were on yard duty. The students enthusiastically told them that they had just been discussing how important it is for every student to take a science class.

'Stories like this are why we do what we do – to make a real difference in schools and in the lives and learning of young Australians,' Smith reflected.
Across Australia, women are raising their hands to help inspire the next generation of women in STEM by contributing their stories and passion for the field on The GiST.

'I'm very passionate about diversity in STEM and am keen to do what I can to support it,' said systems engineer Nikita Sardesai, who was recently featured on the website.
Bringing more diversity to STEM subjects and careers
In August, ESA completed an audience evaluation of the first two years of The GiST to determine new priorities and opportunities.

'We are now preparing for the next phase of The GiST, which will focus on supporting a more diverse cohort of students, educators and families,' Smith shared.

'It is not only important to enhance gender diversity in STEM, but to ensure all groups across Australia – from LGBTQIA+ people to Aboriginal and Torres Strait Islander and culturally diverse communities – have the resources to pursue an interest in STEM.'